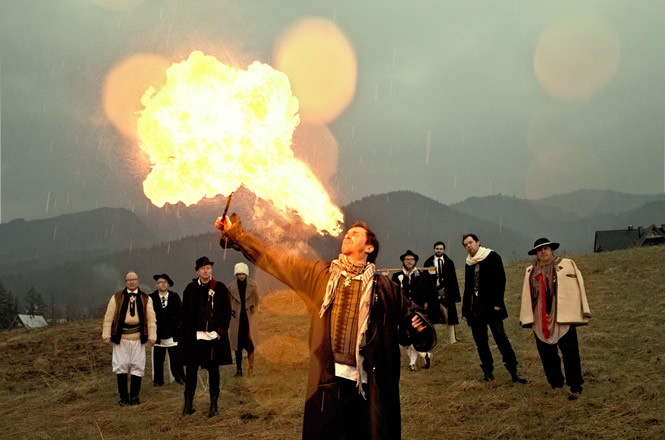 Stars of Eastern World Music Bound for Prague
Fresh East wind brings folk music from Poland, Ukraine and the distant Caucasus to United Islands. On Friday, 21 June, Česká spořitelna World Stage offers you an opportunity to listen to mountaineers' bagpipes as well as the traditional Georgian instrument, panduri. The program of the first day of the festival offers the performances of the Georgian band 33a and Poland's Vołosi and Zakopower; the Dagadana trio performs after ten in Divadlo Archa.
The concert of 33a and Vołosi on the Česká spořitelna World Stage starts at 6.30 p.m.; it is part of the traveling festival of Transkaukazja which aims at presenting the best of contemporary Caucasus art to Europeans. 33a is a folk-rock band from Tbilisi, Georgia, that was founded by the vocalist Niaz Diasamidze in 1994. After its five albums, the band decided to break the boundaries and in 2011 started rehearsing with the Polish band of Vołosi. The strings ensemble Vołosi amalgamates classical music with Polish folk music. It all translates into you having an opportunity of experiencing three violinists, a violoncellist and a double bassist with the traditional Georgian three-string instrument panduri and Niaz's unmistakable voice.
The violin is going to remain on the Česká spořitelna World Stage also when Zakopower from Zakopane, Poland, comes to play. The band is also bringing bagpipes which are a guarantee of high-quality mountaineer folk music, yet in modern rock arrangements. The group of nine and primarily its charismatic founder Sebastian Karpiel Bułecka is certainly going to make dance even the laziest of visitors.
There is more in the East wind that this. If you move to Divadlo Archa after 10 p.m., you will hear Polish a little longer. We have prepared for you a special treat that starts at 10.30 p.m.: Dagadana band! The female vocalists Daga and Dana perform very intimate yet jolly jazz-folk that is wrapped in electronic sheets. The main hallmarks of the Polish-Ukrainian trio are frequent use of synthesizers, loops as well as an acoustic double bass and childish playfulness.